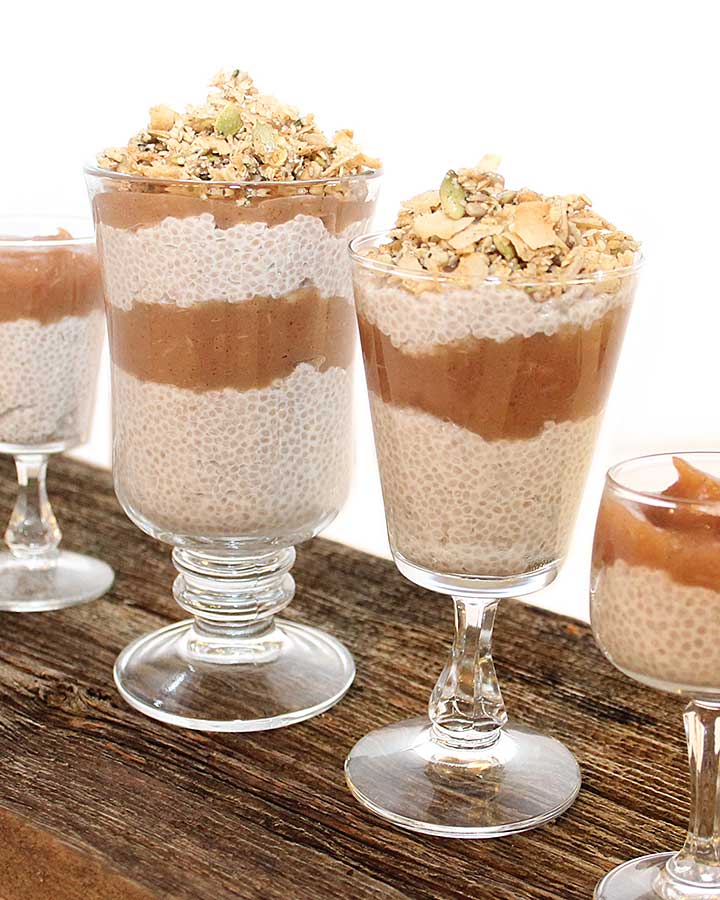 Fresh produce is all around us at this time of year. For that reason, I enjoy spending a lot of time in the kitchen cooking up comforting dishes and treats. Plus I don't feel so guilty since the kids are back in school.
YOU CAN STILL ENJOY HEALTHY TREATS WITH ALLERGIES AND FOOD SENSITIVITIES
I can no longer eat gluten, eggs, dairy, and a few other high reactive foods, and my oldest son is allergic to peanuts and some nuts. So transforming my culinary skills into safe alternatives has challenged me to think outside the average pantry of ingredients.
Now, I make dessert crusts with mostly seeds, gluten-free flours, and lightly sweeten my recipes with dates, maple syrup or honey.
The crisp September air reminds me that apples are now ready to be picked and enjoyed. Cortland apples are my all-time favourite. They are delicious fresh from the tree, and I love their texture once cooked or baked into special desserts.
Large, bright red, crispy, tart, juicy Cortland apples
My grandparents had apple trees in their backyard, so I was fortunate to taste a wide variety as a child. It was always so hard to wait for Cortlands to be ripe and ready.
My grandmother always had to remind me to be patient and wait until the first cool night (or light frost) to pick the large, bright red, crispy, tart, juicy apples. I always snuck a few in my pockets while visiting her garden during the summer months. They were underripe and pucker face sour. I was little—I didn't care.
My grandmother's slightly tart apple sauce was top of mind when I created this Coconut Chia Apple Sauce Parfait with Seed Granola recipe.
She left the skin on her apples, so once cooked the sauce would transform into a perfect autumn colour. If I remember correctly, she pressed her apple sauce through a strainer to get all the unwanted bits and pieces of skin out.
The apple sauce I prepared for this parfait is the same as my Canadian Chunky Apple Sauce recipe. The only difference is that for this version I kept the skin on, just like my grandmother did. Once the apples were cooked and soft, I puréed them in a high-speed blender into a silky smooth texture.
COCONUT FLAKES, OATS, AND SEEDS 
When I have Cortland apples in the house, I either crave crisps, muffins, and sometimes pies or tarts. This time I wanted to develop something a bit different, and of course good for you.
I wanted to create a treat that combined the flavours of a freshly baked pie or warm apple crisp. To achieve that, I decided to prepare a granola recipe with ingredients that are completely allergen-friendly. A mixture of coconut flakes, oats, and seeds was tossed with a little maple syrup and some spices. And, that's all it took. The final Seed Granola was golden, crispy, and super tasty! Addicting on its own and great as a topping for my parfaits.
I was happy with the first two layers, they were really good, but I still felt that another component was needed. With that in mind, I decided to mix some organic creamy coconut milk with whole white chia seeds. It thickened up into a decadent pudding. A pure organic vanilla extract was added to jazz it up a notch. It was simple but perfect! It merged all my fall cravings ever so beautifully.
Less than 10 ingredients per layer
Don't let the length of the parfait ingredients and instructions intimidate you. Each recipe is simple to make. Less than 10 ingredients per layer (the 11th ingredient in the Seed Granola is optional). It's a great recipe for home cooks that want to impress their guests.
Eventually, I will set up a separate page for each recipe. The Coconut Chia Pudding and Seed Granola deserve to be in the spotlight of their own. They are equally amazing. Green salads are excellent with a sprinkle of Seed Granola, and it's a great topping for a baked sweet potato. My kids and I love homemade apple sauce, so that recipe is already on the blog.
SHARE YOUR CREATIONS
Follow Fresh is Real on Instagram or Pinterest. Like my Facebook page and join my private Facebook Group. Tag your photo with @freshisreal_ or #freshisreal.
Finally, if you tried this Coconut Chia Apple Sauce Parfait with Seed Granola, please leave a comment below, tell me about your experience, and rate the recipe.
Have fun in the kitchen!

PS. One more thing. If you ever find typos or mistakes in any of my recipes, please let me know directly in the comment box below. I'm a normal busy mom trying to do many things at once. As I am typing this, my oldest is hitting some toys together producing very annoying sounds while telling me about his video game! Breath mamma, breath!
Print
Coconut Chia Applesauce Parfait with Seed Granola
Author:

Prep Time:

45 mins

Cook Time:

45 mins

Total Time:

1 hour 30 mins

Yield:

6

+

1

x
Category:

Treat, Dessert, Sauce

Cuisine:

Vegan, Plant-Based, Allergen-Friendly, Kid-Friendly
---
Description
Impress your guests with this treat! Enjoy each layer individually or served them together as a parfait for an explosion of textures and flavours! The creamy coconut chia pudding is simple and decadent, the sweet and slightly tart applesauce is just like my grandmother made, and the seed granola is crunchy and addicting! Serve it at special occasions, or when you crave a treat! Egg, dairy and gluten-free, plant-based, and kid-friendly.
---
Scale
Ingredients
 Seed Granola Layer (yields 2.5 cups*) 
1 cup

plain unsweetened coconut flakes

1/2 cup

quick or flaked GF oats

1/4 cup

sunflower seeds

1/4 cup

pumpkin seeds

1/4 cup

hemp seeds

1 tablespoon

whole chia seeds

1/4 teaspoon

cinnamon

1/4 teaspoon

fine grey sea salt or Himalayan salt

1/8 teaspoon

vanilla powder (optional)

1 teaspoon

vanilla extract

1/4 cup

maple syrup
extra

1 tablespoon

maple syrup drizzle (optional)
Coconut Chia Pudding Layer (yields 2 cups*)
1 cup

coconut milk

1/2 cup

whole chia seeds

1 tsp

pure vanilla extract (or

1/8 teaspoon

vanilla powder)
Apple Sauce Layer (yields up to 3 cups*)
5

large Cortland apples, peeled** and cut into smaller pieces

2 tablespoon

s water

1 tablespoon

maple Syrup (optional)

1/2 teaspoon

cinnamon

1/8 teaspoon

nutmeg or Jamaican All Spice

1/8 teaspoon

vanilla powder (or

1/2 teaspoon

vanilla extract)
*Use what you need for the parfaits, and the enjoy the rest later.
**For pink apple sauce, leave some skin on.
---
Instructions
Seed Granola Layer
Preheat oven to 350 degrees F.
In a medium bowl, combine all ingredients and mix until well incorporated.
Place mixture on a parchment-lined cookie sheet and spread out evenly.
For a super crispy texture, drizzle the extra 1 tablespoon of maple syrup over granola mixture.
Bake at 350 degrees F for 6 minutes, remove from oven and mix granola around to prevent burning, return to oven.
Keep a close eye on your recipe, stir around again if necessary, until golden brown and crispy, about 12 minutes total.
Let cool completely, transfer to a glass jar until ready to use.
Note: Add granola to parfaits right before serving to maintain crispness.
Coconut Chia Pudding Layer
Combine ingredients in a glass bowl, mix until well combined.
Let the pudding sit at room temperature for 20 minutes, or until ready to assemble parfait
Apple Sauce Layer
Place your apples in a medium saucepan, add water and remaining ingredients.
On medium/low bring apple sauce ingredients to a soft boil.
Reduce heat to low, and let simmer for 30 minutes or until apples are soft.
Purée cooked apples in a high-speed blender. Let cool.
Parfait Assembly
Find about 6 small clear, smooth glasses, jars, or bowls and spoon in a layer of Coconut Chia Pudding.
Then add a layer of fresh apple sauce. Depending on the size of your portions, you might want to add another layer of each the pudding and apple sauce, or simply top with the final layer of granola and a fine drizzle of Canadian maple syrup. There are no set rules on parfait assembly, just have fun with it!
---
Notes
Parfait will be easier to assemble while pudding and apple sauce are at room temperature. Parfaits are best enjoyed freshly made and at room temperature, but still very good if refrigerated.
Add granola topping and final maple syrup drizzle (optional) right before serving.
Place leftover parfaits in the refrigerator for up to 3 days. Store extra Seed Granola in a cool dark cupboard, or refrigerate for up to 10 days. Refrigerate extra Apple Sauce and Coconut Chia Pudding in glass jars for up to 7 days.