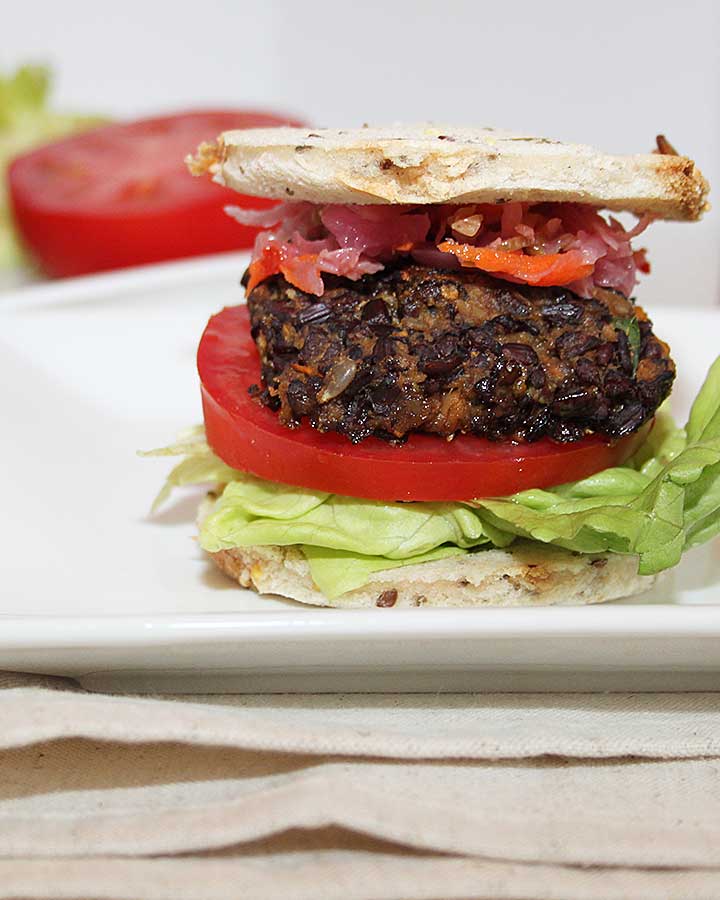 Burgers anyone?
It's that time of year when we all crave burgers. Well, I do anyway. They are everywhere! At family picnics, birthday parties, festivals, concerts, etc. but let's be honest, not all burgers are created equal.
No bad fillers 
It's a little frustrating to eat a burger when you don't know what the fillers are. Whether a meat burger or not, let's face it, there's a gazillion recipes out there for the ultimate best burger. Some add eggs, a lot include cheese, wheat is sometimes used as a binder and flavour enhancer which is no good for the intolerant, allergic or celiac crowd.
This Vegan Black Rice Sweet Potato Mushroom Burger is my new favourite. It was made with all of these concerns in mind. Prepared with healthy ingredients, full of nutrients, that can be enjoyed by most. If you can't eat an ingredient I've suggested please feel to modify it with something you can eat.
Looking for meatless meal ideas
Developed with the best plant-based ingredients this vegan burger recipe is completely allergen-friendly. Many people are trying to cut down on their meat consumption and try to include more meatless meals into their family dinner rotation. The Vegan Black Rice Sweet Potato Mushroom Burger recipe is a great one to try and even tweak it to make it your own.
Challenge your family
I dare you to bring these to your next gathering and try to fool your Uncle Bob! You know the one that shouldn't be eating red meat in the first place. Make him a burger and watch his reaction!
Toppings often perfect the tastiest of burgers. Adding fresh greens, sliced tomatoes, cucumbers, cultured/fermented pickles or vegetables, kimchi, Avocado Coconut Mayo, onions, etc. does help enhance the overall flavours.
Crisply cooked is amazing
Cook these Vegan Black Rice Sweet Potato Mushroom Burgers a bit crispy on the edges, and they will taste phenomenal! I hope to surprise you with this one.
Let me know what you think
This recipe is a must try, and once you do, let me know what you think. Did you make any modifications and how did it turn out.
Take pictures and share them on my Facebook or Instagram page using the hashtag #freshisreal.
Until my next fresh creation – thanks for stopping by!

Print
Vegan Black Rice Sweet Potato Mushroom Burger
Author:

Prep Time:

25 mins

Cook Time:

20 mins

Total Time:

45 mins

Yield:

12

1

x
Category:

Lunch, Snacks, Dinner, Sandwich

Cuisine:

Vegan, Plant-Based, Kid-Friendly, Allergen-Friendly
---
Description
The most satisfying vegan burger to make at home when you can't eat many of the plant-based fillers (e.g., legumes, nuts, wheat, etc.) used in vegan burgers served in restaurants. Could also make the best kid-friendly meatless balls.
---
Scale
Ingredients
1 tbsp

ground flax

2 tbsp

warm water

1

sweet potato, baked (about

3/4 cup

)

3 cup

s cooked black rice*

1/4 cup

sunflower seed flour** or pre-soaked raw sunflower seeds*** (or more oats)

1/4 cup

quick oats

1/4 cup

brown rice flour

1 tbsp

arrowroot starch

2

red pearl onions or

2

green onions, finely chopped

1/2

jalapeño pepper, finely chopped

1/2 cup

fresh mushrooms, finely chopped

1

fresh turmeric root, finely grated (about

1 tsp

)

1

fresh ginger root, finely grated (about

1 tsp

)

1/4 tsp

salt + more for cooking

1/4 tsp

garlic powder + more for cooking

1/8 tsp

pepper, freshly ground + more for cooking

1 tbsp

tamari or Coconut Aminos

1/2 cup

water or vegetable broth (optional)

2 tbsp

coconut oil or olive oil per batch****
---
Instructions
In a small bowl, place 1 tbsp of ground flax and let soak in 2 tbsp of warm water while you measure out the remaining ingredients.
In a large bowl, add the baked potato and mash it with a potato masher.
Add your pre-cooked black rice, sunflower seed flour (or pre-soaked raw sunflower seeds), oats, rice flour, arrowroot starch, onions, jalapeño peppers, mushrooms, turmeric, ginger and flax mixture to the mashed sweet potato bowl.
Add the seasoning (salt, pepper, garlic powder), tamari or coconut aminos, and water or broth only if your mixture needs extra moisture.
Mix all ingredients until well incorporated.
With clean hands, scoop out a palm size amount and shape into small burger patties. Should make about 12 small patties.
Place in a glass container in layers separated with parchment paper.
Refrigerate for 2 hours or overnight (or cook them right away if you don't want to wait).
When ready to cook, add coconut oil or olive oil to a well-seasoned pre-heated cast iron skillet.
Cook each side for 5-8 minutes until crispy and warm throughout.
Add more seasoning (salt, pepper, garlic powder) if necessary.
Serve with your favourite gluten-free/vegan bread, a lettuce wrap, or on its own with a side of salad.
---
Notes
Don't forget to add your favourite toppings such as fresh greens, tomatoes, cucumbers, pickles, kimchi, or even my homemade Avocado Coconut Mayo. A sprinkle of yummy coconut bacon would also be a great topping.
* Black rice might not always be available at your local stores. I'm sure you could try substituting it with organic sprouted brown rice or plain brown rice. I haven't tested this version so I don't know if the overall flavours would be different. The appearance of the burger would be lighter in colour.
** Bake raw sunflower seeds (I usually prepare 1-2 small packages at a time) on a parchment lined cookie sheet in a preheated 375-degree oven for about 10-12 minutes. Once cooled grind them in a small coffee grinder then sift the flour through a fine mesh sifter to remove the unwanted bits. Return larger bits to the grinder until all your seeds are finely grounded. Probably one of my top favourite, nutritious, plant-based flours.
***Place 1/4 cup raw sunflower seeds in 1/2 cup of water in a glass jar. Let soak overnight on your kitchen counter or in your refrigerator. This process makes your seeds easier to digest and the nutrients more bioavailable to your system.
**** Depending on the size of your pan you might have to cook your patties in a few batches.
Store uncooked patties in the refrigerator for up to 2 days until ready to cook. Once cooked, store in the fridge for up to 5 days. You can also freeze the meatless burgers uncooked until ready to cook. Thaw for a couple of hours before pan-frying the burgers.