Coconut. Chewy. Guilt-Free Treat.
Enjoy these Coconut Banana Seed Bars fresh out of the oven. Or make them ahead of time and freeze them until ready to serve. These bars make a great healthy snack or perfect naturally sweetened dessert.
This treat will surely satisfy coconut lovers! But if you enjoy seeds and plant-based proteins, make sure to give these nutritious bars a try.
You can eat them plain or jazz them up a little for special events. A simple drizzle of dark chocolate can do the trick with a few cranberries or goji berries and crispy coconut chips.
Know what's in your food
Being in the kitchen makes me happy. There's nothing comparable to the aroma that fills a house when something is cooking or baking.
I want to know what goes into the food that I prepare for my family. Buying bars or packaged goods at the store is convenient but pay attention to the ingredients. Even if you try to find 'cleaner' treats, there's always a few sneaky ingredients that you might want to avoid. Examples: extra sugar, soy, refined oils, preservatives, additives, etc.
This recipe is easy to prepare with pure, organic and raw ingredients. For example, when buying seeds or coconut (shredded or flaked), the ingredients on the package should be listed as seeds or coconut. No added oils, sulphites, or sugar, etc.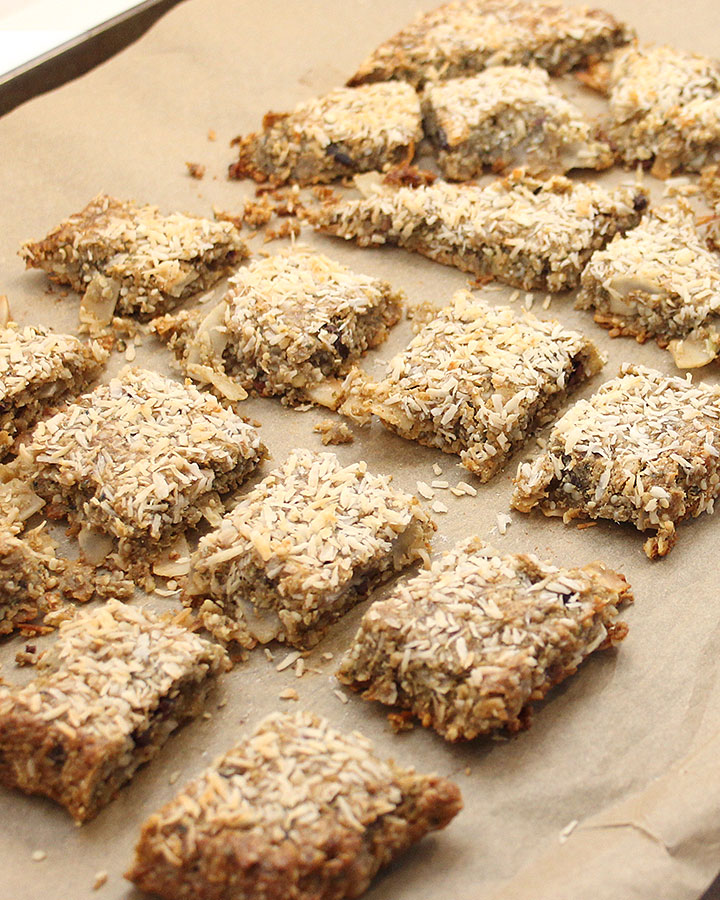 Weekly Inspiration
I am continuously blown away by the talented food recipe developers around the world. We are pretty fortunate to witness daily creations as they unfold.
Instagram and other social media platforms have given us the opportunity to explore breathtaking food photography and fun how-to videos that showcase so many different types of cuisines.
Here are a few health and wellness Instagramers I follow @aliveheatlh, @joyoushealth, @rainbowplantlife.
Follow @beautifulcuisines for some of the best food photography ideas, or @love.vegan_ for awesome plant-based food art!
Artist highlight
Canadian artist and photographer: Christian Lalonde @christianlalonde
According to his latest Instagram posts, Chris and his team shot Chef Corbin's food photos for his upcoming recipe book.
More Recipes
Are you looking for more healthy coconut treats? You could give my Raw Coconut Macaroons a go. They are quick to make and don't require any baking.
If you're all about crispy baked nutritious snacks, my Seed Granola also includes lots of coconut and seeds. It's addicting!
Share your creations
Follow Fresh is Real on Instagram or Pinterest.
Like my Facebook page.
Tag your photo @freshisreal_welcome #freshisreal
Please leave a comment below if you made these Coconut Banana Seed Bars.

Coconut Banana Seed Bars
These chewy bars are packed with nutrient-dense ingredients, sweetened with mashed banana (and the optional touch of raw honey), and make the best easy dessert or energy bar. The Coconut Banana Seed Bars are ideal for school and office parties, as they are free of the top allergens. Serve them plain or jazzed up with a little drizzle of dark chocolate, a couple cranberries or goji berries, and coconut chip(s).
Author:
Chantal | Fresh is Real
Recipe type:
Treat, Dessert, Snack
Cuisine:
Plant-Based, Allergen-Friendly, Vegan
Ingredients
½ cup hemp hearts
½ cup unsweetened shredded coconut + plus extra for top (about 2 tablespoons)
½ cup unsweetened coconut flakes
¼ cup raw sunflower seeds, ground*
¼ cup raw pumpkin seeds, ground*
1 ripe banana, mashed
2 tablespoons coconut oil
2 tablespoons creamy sunflower or pumpkin seed butter
1 tablespoon raw honey (optional)
¼ teaspoon cinnamon
⅛ teaspoon organic vanilla bean powder (or 1 teaspoon pure vanilla extract)
⅛ teaspoon nutmeg
⅛ teaspoon fine grey sea salt (or sea salt)
——-
Optional add-in: 1 tablespoon cacao nibs or ¼ cup dark chocolate chips (allergen-free)
——-
Instructions
Preheat oven to 350 degrees F.
Line a baking sheet with unbleached parchment paper.
Measure and add all ingredients to a large bowl, mix well.
If you wish, add in cacao nibs or chocolate chips, incorporate into the mix.
Transfer mixture to lined baking sheet and spread to an 8 x 5-in rectangular (about ½-in thick).
Top with extra shredded coconut. Gently pat down on coconut to help it stick.
Bake for 20 minutes, then remove the pan from the oven for the next step.
Cut into 12 bars, whichever shape you wish.
Return to oven for 5 minutes to help crisp up edges.
Remove from oven and let cool. Enjoy!
——-
Optional decoration: drizzle dark chocolate over bars and finish with cranberries, or goji berries, and coconut chip(s).
——-
Notes
Store in covered glass container in the refrigerator for up to 1 week or freezer for up to 3 months.
* You can use a coffee grinder to transform your seeds into a flour. Coarse or fine will work great!