Little bites like these Green Pea Falafels are perfect for any occasion. Everyone loves appetizers! Right?
These falafels are quick to make with only 8 ingredients + spices! The bonus part is that they are chickpea-less! Developed with soft green peas because let's face it, not everyone can digest those belly cramping chickpeas!
Using green peas should make things a little more comfortable on your digestive track plus they taste darn great! This recipe is vegan, gluten-free, and completely allergen-friendly.
Plant-Based Lifestyle
Transitioning to a lifestyle that includes more plant-based recipes can be a slow process. It takes dedication, self-education, time and a lot of food preparation.
Every week, I post nutritious recipes that are packed with beneficial ingredients. Hopefully, giving you recipe ideas you can add to your repertoire.
Check out The Rustic Vegan for plant-based recipe ideas that will blow your mind. You can also follow him on Instagram to see his colourful and artsy food photos.
Add-ins
One more thing, if you are not following a special diet or limited to the list of ingredients listed, have fun with this recipe! Add garlic, onions, or more spices. Enjoy experimenting!
More Recipes
Are you looking for more recipe inspiration like this one? My Ultimate Sauce or The Ultimate Survival Meal are great ones to try.
My Strawberry Banana Hemp Milk is also a simple drink recipe to make. The shake-like beverage is a nice satisfying treat. I made a delicious frozen nice cream this week with similar ingredients.
Share your creations
Follow Fresh is Real on Instagram or Pinterest.
Like my Facebook page.
Tag your photo @freshisreal_welcome #freshisreal #falafels #veganfalafel
Please leave a comment below if you made the Green Pea Falafels.
Or, just say hi! That would make me happy!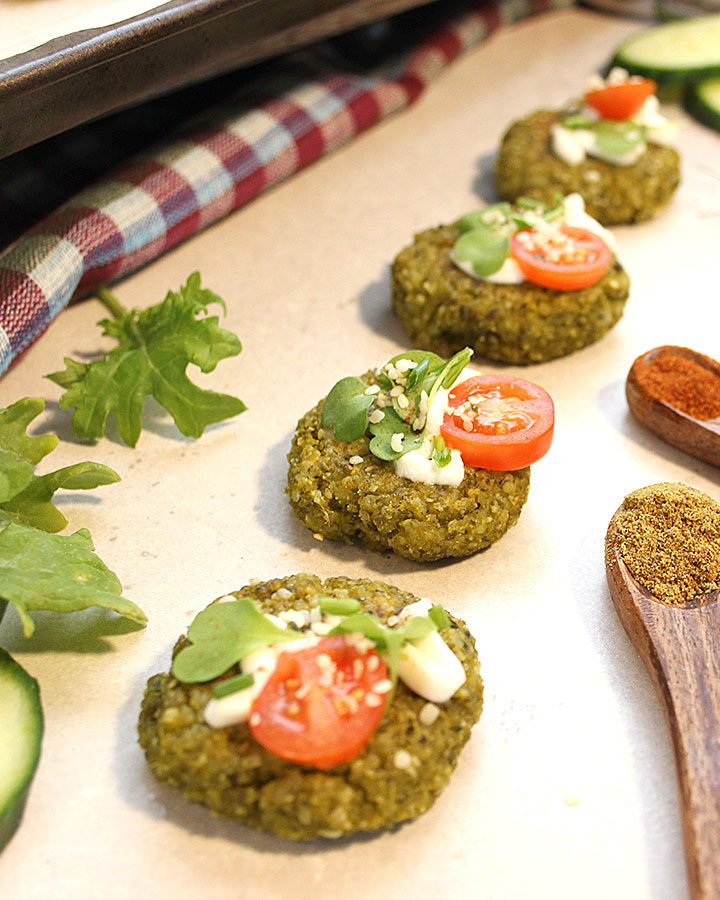 Green Pea Falafels
These little easy-to-make oven-baked falafel bites will fill your snacking, party appetizer, and quick meal needs. Falafels like these are not the traditional kind, but they are nutritious and loaded with healthy ingredients. Enjoy them crispy, fresh out of the oven, or cooled at room temperature.
Author:
Chantal | Fresh is Real
Recipe type:
Snack, Appetizer, Lunch, Dinner
Cuisine:
Vegan, Allergen-Friendly, Plant-Based, Gluten-Free
Ingredients
1 cup cooked white rice*
1 cup frozen peas
1 cup fresh greens** (large handful: spinach, kale, chard)
¼ cup fresh cilantro (about 1 tbsp chopped)
1-2 teaspoons fresh chives, chopped
¼ cup organic hemp hearts
¼ cup sunflower flour***
1-1/2 tablespoons lemon juice (juice of half a lemon)
½ teaspoon cumin
¼ teaspoon sea salt
⅛ teaspoon cayenne pepper
⅛ teaspoon ground pepper
¼ cup water or vegetable broth**** (if required)
Olive oil for baking
Instructions
Make sure to have one cup of cooked white rice before you start.
Preheat oven to 400 degrees F.
Line a baking sheet with unbleached parchment paper, and drizzle a little olive oil.
To make the falafels, you will add all the ingredients to a high-speed blender, except for the water or broth****.
Use your blender tamper to push down on ingredients to make sure they are equally chopped.
Don't over blend, leaving some texture is perfect. You just want to make sure all your greens are chopped up and mixed.
Transfer mix to a bowl or scoop out 1-inch balls directly from the blender, place on parchment-lined baking sheet, and gently flatten into small patties.
Repeat until all the mix is used up.
Bake for 12 minutes then flip each falafel and bake for another 13 minutes (25 minutes total).
Baking times can vary so leave yours a little longer if you want them crispier.
Enjoy them right out of the oven with a simple mayonnaise or creamy sauce.
Store any baked leftovers in the refrigerator for up to 5 days.
Notes
You can also pan fry these falafels but when testing both methods baking them in the oven created crispier falafels.

* Fresh steamed organic white rice (Basmati or Jasmine) works well.
** You can combine different greens. I like pre-washed organic baby spinach and kale.
*** Use a coffee grinder to transform raw organic sunflower seeds into flour.
**** Only use the liquid listed if your mixture is too thick to blend.