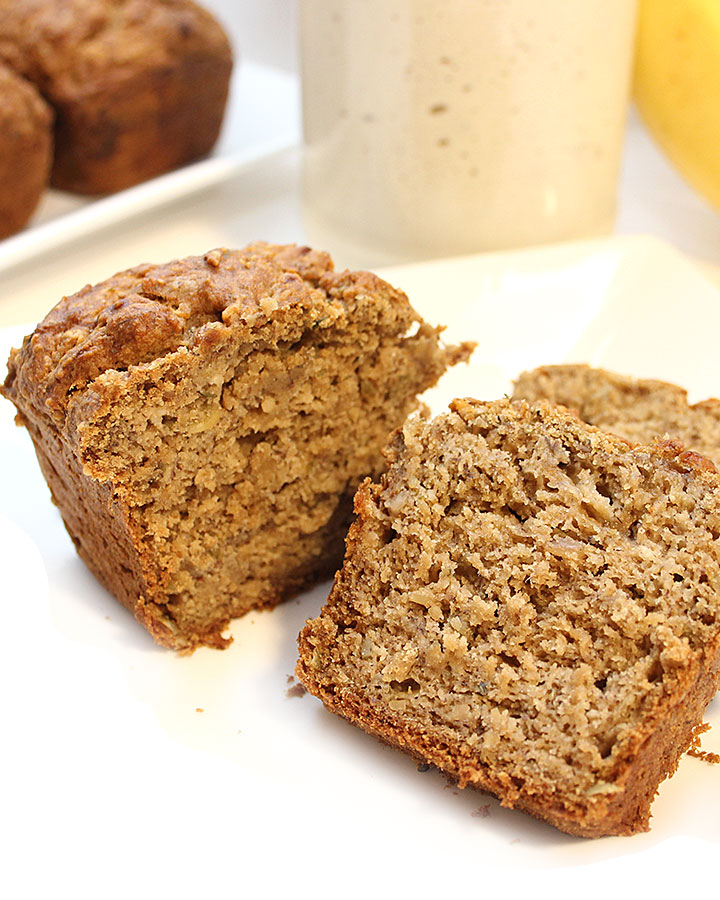 Hello, baking fanatics—I can't wait for you to try this new recipe! This 1-Bowl > Mix > Bake Banana Sourdough Seed Loaf is out of this world!
Bubbly active gluten-free sourdough starter (natural wild yeast) is the secret ingredient in this yummy loaf.
A tasty no gluten snack that is also free of eggs and dairy and completely allergen-friendly.
Banana Sourdough Seed Loaf Recipe
The loaf recipe was prepared with a gluten-free sourdough starter made from organic brown rice flour and clean (unchlorinated) water.
If you already have a good starter, use it to try this recipe! Feed your starter, and wait until it's active and bubbly. A thick pancake-like batter texture is excellent. Or, if you've used buttermilk in the past, it's comparable.
It's also very possible that you've never made anything with a sourdough starter before.
Eventually I will post more about this process, but for now, I will make a few suggestions.
Gluten-Free Sourdough Starter Kit
You can buy a kit to help you make your first gluten-free starter. Some are available online, and you might be lucky to find some at your local health food stores. In Ottawa, Ontario, Canada, I've seen the kit at Rainbow Foods on Richmond Road.
How to make a Gluten-Free Sourdough Starter from Scratch
If you're the kind of person that loves to experiment in the kitchen, then perhaps you could try making your own. All you need is organic (preferred) gluten-free brown rice flour, a good clean source of water (spring water or filtered water is ideal) and follow these steps from Whole New Mom, or these instructions from Cultures for Health if you purchase their starter kit.
Please note that not all gluten-free sourdough recipes on the web are vegan. You can still bake up good loaves without eggs and dairy. It's possible, so don't worry.
The process might seem a little intimidating at first, but once you get familiar with fermentation, it's a lot of fun and very rewarding. It's a very educational food science experiment, get your kids to help!
This Banana Sourdough Seed Loaf recipe should be pretty easy for experienced sourdough bakers. If you've never made anything with a gluten-free sourdough before, consider starting here.
Here are some visuals to help you make this recipe.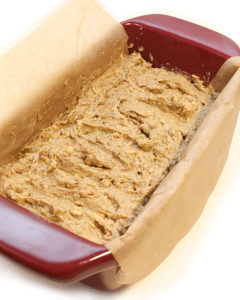 Like me, you can master your Gluten-Free and Vegan baking skills with the help of the Gluten-Free Baking Academy, This course is terrific, plus Heather Crosby (the teacher) taught me to use the best gluten-free ingredients, without any yucky unwanted fillers. If you're interested, there are usually two sessions per year.
If you have questions about this recipe or fermentation, let me know!

Banana Sourdough Seed Loaf
You love banana bread—or, did the word sourdough catch your attention? Regardless, this is a must try recipe if you have an active bubbly starter (wild yeast) ready to be added to nutritious recipes. This banana loaf is easy to prepare for experienced sourdough bakers. For gluten-free sourdough newbies, there is a learning curve to make your first starter. With a little patience and time, you can create an active bubbly starter that you'll come to enjoy in various bread recipes such as this one.
Author:
Chantal | Fresh is Real
Recipe type:
Desserts, Snacks, Treats
Cuisine:
Vegan, Gluten-Free, Allergen-Friendly, Kid-Friendly
Serves:
1 loaf or 4 mini loaves
Ingredients
Vegan egg———
1 tablespoon chia seeds + 1 tablespoon flax seeds, ground + 6 tablespoons warm water
Dry———
½ cup brown rice flour
½ cup oat flour
¼ cup raw pumpkin seeds, ground into flour (about ⅓ cup)*
¼ cup raw sunflower seeds, ground into flour (about ⅓ cup)*
½ cup coconut palm sugar (works without or use less sugar)
1 teaspoon baking soda**
1 teaspoon baking powder**
¼ teaspoon salt
¼ teaspoon cinnamon
Wet———
3 medium (or 2 large) ripe bananas, mashed
1 tablespoon ghee*** (or use extra coconut oil)
¼ cup coconut oil, melted
1 teaspoon vanilla extract
1 cup active gluten-free starter
Add-ins———
1 cup**** (combination of large oat flakes, sunflower seeds, and pumpkin seeds, coarsely ground or chopped)
½ cup allergy-free dark chocolate chips (optional)
Instructions
Preheat oven to 350 degrees F and lightly grease (coconut oil is a good option) a parchment-lined bread pan (I used an 8.5 x 4.5-in ceramic bread pan).
Prepare vegan egg (ground chia, ground flax, and water) in a small bowl, mix, and let sit until ready to use.
Mash bananas directly in a large mixing bowl.
Measure out all dry and ingredients, add them to the large bowl.
Add ghee, vegan egg, coconut oil, vanilla and mix well.
Gently fold in one cup of bubbly active gluten-free sourdough starter.
Lastly, add coarsely ground or chopped oats, seeds, and chocolate chips (optional) mix to incorporate.
Pour batter into you parchment-lined bread pan.
Bake at 350 degrees F for about 60 minutes*****, or until edges look golden brown.
Remove from oven, let cool in pan for 10 minutes, using parchment paper pull out the loaf and let cool on a cooling rack.
Once completely cooled and at room temperature, enjoy!
Best kept in the refrigerator in a glass container, with lid, for up to 7 days.
You can also freeze any leftovers for up to 3 months. Slice before freezing.
Notes
*Grind pumpkin and sunflower seeds in a coffee grinder, dry container Vitamix, or food processor, into a fine flour. You can do the same with the flax and chia seeds if they are whole.
**Use gluten-free, corn-free, and aluminum-free baking soda and baking powder.
***Ghee is not vegan. For the vegan option, use extra coconut oil.
**** Nuts are another add-in option if you are not allergic to them.
***** For mini 5 x 2-inch bread pans, 45 minutes of baking time should be sufficient.