It's time to share this recipe for Carrot Spice Donuts with you! This is the kind of donut you want to eat! I'm serious! You don't have to be gluten-free or vegan to make and try these amazing treats!
These Carrot Spice Donuts are the perfect snack! The recipe makes 6 large round donuts and 12 mini ones. They are safe for school or your next office meeting because they are allergen-friendly. And I promise I won't tell if you eat a couple for breakfast—they're addicting!
Put these beauties amongst other desserts at your next get together and see which ones disappear first!
Donuts or Muffins?
The texture of these tasty donuts is similar to a good gluten-free and vegan muffin. Light, a little crumbly and not too sweet—just right!
If you don't have a donut pan go ahead and make more mini donuts by using a small muffin pan. Or hack your larger muffin pan with a rolled up cylinder of parchment paper to create the center of the donut.

Hemp Milk
This recipe contains homemade hemp milk. One might ask if they can use other plant-based kinds of milk. The answer: maybe.
Store bought plant milk often includes many other ingredients that homemade milk just doesn't. When you make your own milk, it's simply the seeds (nuts or grains) plus water, no gums, no preservatives, no junk.
We All Need Treats
The reason I develop recipes such as this Carrot Spice Donuts recipe is mainly for people that just can't find delicious and safe treats in the stores.
Donuts that you can buy, even at the best shops, are often filled with soy, too much sugar, ingredients my body or yours just can't handle anymore (dairy, eggs, nuts, animal fats, etc.) or prefer to avoid.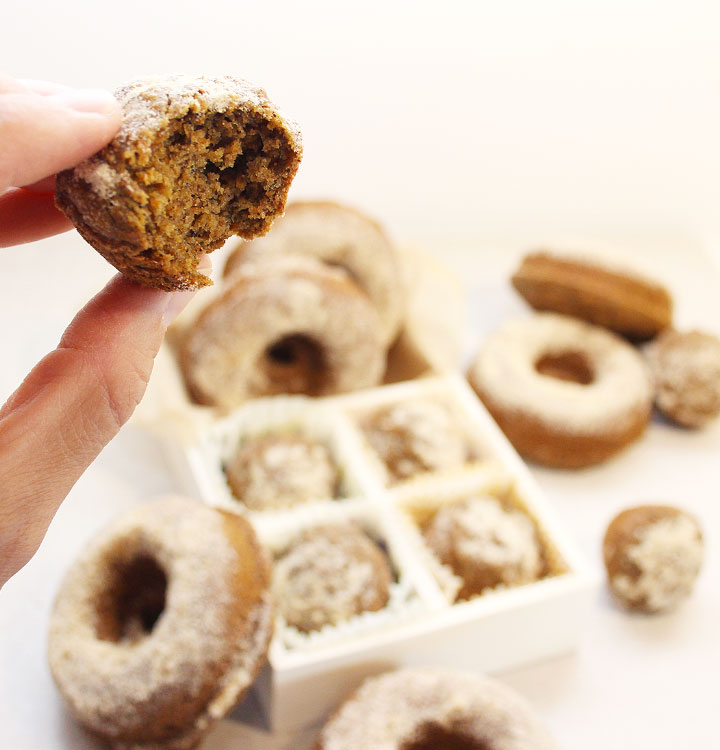 Nutrition
Although these Carrot Spice Donuts are a treat they do contain a full cup of freshly grated carrots and a cup of homemade hemp milk. Hemp milk is a great source of fibre, plant protein and omegas, so don't feel so guilty! Enjoy!
There's only a little coconut palm sugar in the mix which I find improves the texture of a gluten-free and vegan treat like these donuts. And, the carrots help too!
To finish things off, instead of sinful glaze, I opted for a simple maple syrup powdered sugar—only one ingredient and the perfect touch of natural sweetness.
GFV Baking Facebook Group
Please join my Facebook Group if you love to bake as much as I do!
Each week we welcome new people from all over the world. This GFV Baking group was set up to help members troubleshoot challenging allergen-friendly baking questions for my recipes, or their own, that requires a little tweaking. I sometimes share recipes with the group before they get shared on my blog.
This group is a great place to share ideas, tips and tricks about baking without gluten, dairy, eggs, or other top allergens.
Gluten-Free Baking Academy
If you're interested in learning even more about gluten-free and vegan bread baking, consider learning from the GFBA! Check out Heather Crosby's famous baking course. Learn how to make flatbreads, quick breads, yeasted loaves and some baked treats with even more plant-powered ingredients. Enrolment is usually twice per year.
Baking with new ingredients, especially gluten-free ones is very different. Heather walks you through each step of the way with videos and printable documents. Included are shopping lists and troubleshooting tips for all her methods and recipes. I took this course a few years ago and I highly recommend it! [Affiliate link] To learn more >>
Recently on Fresh is Real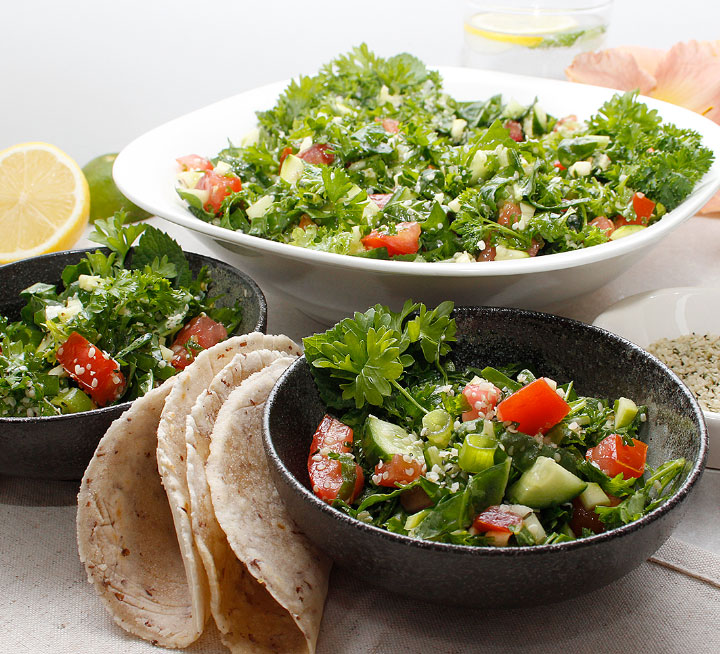 Share your creations
I really hope you try these Carrot Spice Donuts! If you do, take a picture, and share it with us!
Tag it #vegandonuts #freshisreal #gfvbaking
And, don't forget to rate and comment on your experience below. This step is essential to help others find this recipe!

Print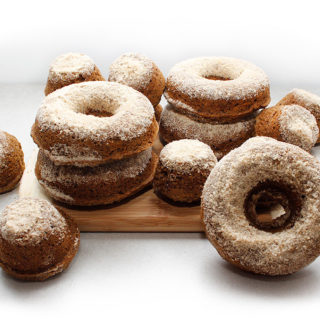 Carrot Spice Donuts
Author:

Prep Time:

20 minutes

Cook Time:

20-22 minutes

Total Time:

45 minutes

Yield:

6 large donuts, 12 mini donuts

Category:

Desserts, Snacks, Treats

Method:

Oven-Baked

Cuisine:

Gluten-Free, Vegan, Kid-Friendly, Allergen-Friendly, Plant-Based
---
Description
Guilt-free, nutritious, naturally sweetened donuts prepared with freshly grated carrots. This irresistible oven-baked treat is also top 8 free so go ahead and make them for anyone that avoids gluten, eggs, dairy, soy, nuts or peanuts!
---
Ingredients
Wet:
1 cup homemade hemp milk*
1 tablespoon fresh lemon juice
1 tablespoon ground flax
1/4 cup coconut oil, softened or melted
1 teaspoon pure vanilla extract
1 generous cup finely grated carrots (loosely packed)
Dry:
1-1/2 cups oat flour
1 cup buckwheat flour
1/2 cup sunflower seed flour**
1/2 cup coconut palm sugar
2 teaspoons baking powder***
1 teaspoon baking soda***
1/2 teaspoon sea salt
1/2 teaspoon cinnamon
1/4 teaspoon nutmeg
Topping:
Organic maple sugar powder (optional)****
---
Instructions
Preheat oven to 350 degrees F.
Grease one 6-cavity donut pan and one 12-cup mini muffin pan with a little coconut oil.
To start blend 1-1/4 cups of water with 1/3 cup of hemp seeds in a high-speed blender to make hemp milk.
Transfer the homemade milk to a measuring cup or small bowl. You can also pass the milk through a fine strainer or nut mesh bag to remove any larger unwanted bits.
Add lemon juice to milk and let sit while you prepare the other ingredients.
To a small bowl add ground flax, coconut oil, vanilla extract and mix. Let sit for 5 minutes.
To a large mixing bowl, sift all flours and remaining dry ingredients and mix well.
Add flax mixture, milk, carrots to the large bowl and mix until all ingredients are well combined.
Divide mixture in both the donut and muffin pan. Don't overfill. The donut pan should be filled to the edge but not over, the mini muffins will be a little less than the edge.
Bake the minis for 15-18 minutes and the large donuts for 20-22 minutes*****.
Cool in pan for 10 minutes.
Remove all donuts from pans and dip each one (the smooth underside works great) in some maple sugar powder.
Place each donut on a rack until completely cooled and enjoy!
---
Notes
* I did not test this recipe with other plant-based kinds of milk.
** Use a spice/coffee grinder to transform organic raw sunflower seeds into a fine flour. If you are not allergic to nuts, almond meal flour works great as a substitute for the seed flour.
*** Aluminum-free, corn-free, gluten-free.
**** I'm sure powdered coconut palm sugar could be substituted, but I haven't tried it!
***** The edges will brown a bit and the tops should spring back up when gently pressed down.
Best enjoyed once cooled and the same day! Transfer any leftovers to the refrigerator for up to 3 days. Once refrigerated the texture will change and become a little more firm but they are still amazing!
IMPORTANT: If you are following a strict gluten-free diet please make sure your ingredients are certified gluten-free. If you're baking for someone avoiding top allergens, make sure your products are labelled egg-free, dairy-free, nut-free, etc.