The Best Gluten-Free Vegan Gravy recipe is a regular go-to family favourite! As soon as you try it, you will understand why!
There are many ways to enjoy this oh so comforting gravy! For example, it's amazing with shepherd's pie, oven-baked fries, stir-fries, roasted veggies, baked potatoes, steamed rice—the possibilities are endless! Don't be surprised if you get caught licking your plate—it's just that good!
This post might include affiliate links. I love developing recipes, and by showing you which products I use means that if you click, follow and make a purchase from a link, I will earn a small commission at no extra cost to you. Monetizing my work will encourage me to continue, as creating content for a food blog takes a lot of time.
Trash the gravy mix packets!
When is the last time you read the ingredients on store bought gravy mix packets? Some might be gluten-free or even vegan but they are most certainly not the best for you!
Be mindful of the packaged gravy packets you use to make meals. In a pinch maybe but to consume them all the time… I'll keep this short—trash the gravy mix packets!
Ultimately, taking the time to make beautiful homemade gravy with ingredients you recognize is so much better!

Why this recipe
It's very simple, this gravy was whipped up as soon as I realized that I wanted to fuel my body with the best ingredients possible!
While transitioning to a mostly plant-based diet, it's easy to fall into a rut of always preparing the same dishes over and over again.
The Best Gluten-Free Vegan Gravy comes in very handy when trying to jazz up meals that need extra pizzaz.
Top 8 Free
The ingredients in The Best Gluten-Free Vegan Gravy recipe should be good for most! It's top 8 free which means it does not contain any of the top allergens.
This will be the gravy you will want to make for your next family gathering. Cooking for guests that follow strict diets or that have food allergies can be very challenging and stressful.
Ingredients
I've organized this recipe with must-have ingredients with a few more that are optional but do make this sauce The Best Gluten-Free Vegan Gravy!
The gravy does include Tamari which is gluten-free but soy based. If you can't consume soy you can replace it with Coconut Aminos or leave it out. If you don't avoid soy or gluten, you can use regular soy sauce.
Nutritional yeast is also included in this recipe but if you don't have any, don't worry just omit this ingredient. The addition of 1 tablespoon of hemp seeds or sunflower seeds could be a wonderful alternative. Cashews are great too if you don't have a nut allergy.
Most importantly, this gravy is prepared with ingredients you probably have on hand. See the recipe card for a list of all the ingredients.
Tools
To make this gravy recipe you will need:
Kitchen knife or paring knife
Cutting board
Large saucepot
Measuring spoons (or just eyeball it 😉 )
Large spoon or spatula
Glass jar or storage container
Previous recipe
My last creation on Fresh is Real was my No-Fuss Kombucha Buns recipe. The perfect bread buns for people with food allergies and sensitivities. It's great; mix, refrigerate, shape and bake easy kind of recipe!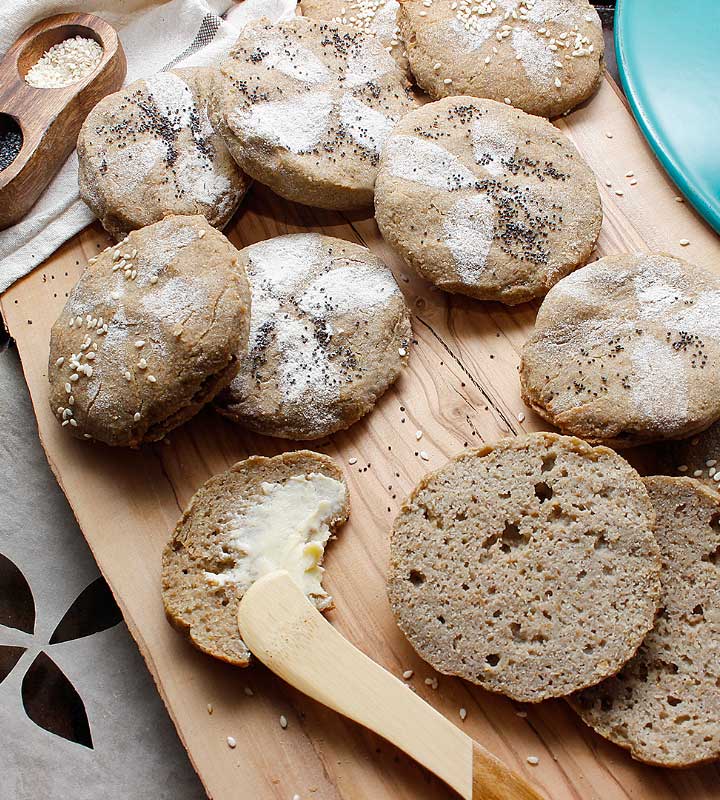 Share your creations
Did you try The Best Gluten-Free Vegan Gravy yet? And? What did you think? Did you tweak any of the ingredients?
Share a picture of which meal you like to enjoy the gravy with! Tag #freshisreal on Facebook or Instagram.
Leave a comment below and rate the recipe if you made this gravy. Others need to know just how good it is!

Print
The Best Gluten-Free Vegan Gravy
Author:

Prep Time:

15 mins

Cook Time:

15 mins

Total Time:

30 mins

Yield:

2 cup

s

1

x
Category:

Sauces

Method:

Stovetop

Cuisine:

Gluten-Free, Vegan, Plant-Based, Allergen-Friendly, Kid-Approved
---
Description
Make a double batch of this gravy! When you need to jazz up a meal, it will become your go-to sauce for everything!
Poutine lover? Bake up some homemade fries, add some cheese and drizzle some of this gravy goodness right on top! You can thank me later!
---
Scale
Ingredients
Must have ingredients:
1/2 cup

white onions, finely chopped

1 cup

mushrooms, roughly chopped

1 tablespoon

olive oil (or coconut oil)

1/4

–

1/2

teaspoon fresh thyme (

2

–

3

sprigs, remove large stem)

1 cup

vegetable broth

2 tablespoon

s tomato paste*

1 tablespoon

Tamari (or Coconut Aminos)

1 tablespoon

maple syrup

1/2 teaspoon

sea salt

1/4 teaspoon

ground pepper

1 tablespoon

arrowroot (or oat flour or potato starch)
Nice to add ingredients:
1 tablespoon

nutritional yeast (or hemp or sunflower seeds)

1/4 teaspoon

fresh ginger, finely grated

1/4 teaspoon

garlic powder

1

fresh garlic bulb, crushed

1/8 teaspoon

red pepper flakes (adds great spice)
---
Instructions
In a saucepot, on medium heat, add olive oil, onions, garlic, mushrooms, thyme, grated ginger and cook for 5 to 10 minutes.
Add the broth, tomato paste, nutritional yeast, Tamari, and seasoning.
Bring to a boil then reduce heat to low and simmer for 10 minutes.
While things are simmering, add 1 tablespoon of arrowroot flour to a small bowl and mix with a little water or broth, and add it to the pot.
Transfer everything to a high-speed blender or blend with an immersion blender, purée until smooth and return to saucepot.
Enjoy right away, or keep warm until ready to eat.
---
Notes
* Substitute with 2 tablespoons of either bbq sauce, ketchup or tomato sauce. Make sure the substitute meets your dietary needs. I've even added a large fresh tomato and it's equally amazing!
If you like your gravy saltier or with more pepper please season the sauce accordingly.
Store leftovers in a glass jar in the refrigerator for up to 7 days.
Tip: Are you feeding more than 4 people? Consider prepping a double batch!
Keywords: Gluten-Free, Vegan, Gravy, Sauce, Allergen-Friendly, Shepherd's Pie, Kid-Approved, Comforting, Best, Poutine