I'm so happy to share part 2 of my 3 bread recipes. This dough is my family's go-to Basic Yeasted Dough (Gluten-Free + Vegan) that we use for a variety of bread creations!
A multi-purpose dough, just like the yeast-free recipe, that is also allergen-friendly. It's as simple to prepare as the yeast-free bread, although this one includes active dry yeast in the ingredients and it requires some rising time.
No mixers, hand kneading, or special techniques needed for this mix. To learn just how easy it can be to make this Basic Yeasted Dough keep scrolling to watch the video.
Basic Yeasted Dough
This bread recipe was prepared multiple times over the past few months. Many flour combinations and baking methods were tested to see what would yield the best-tasting loaves. I hope you will come to love it as much as my family does.
Making pizza crusts with this dough seems to be everyone's favourite. The texture is just right. Not too gummy or dry but still has a nice chew. Who doesn't like a good simple pizza crust right?
Developing bread recipes that are nutrient-dense, gum-free, corn-free, legume-free, and free of all top allergens (egg, soy, dairy, nuts, etc.) are very important to me.
Food sensitivities and allergies suck
Finding out we can no longer eat gluten, and other common grains or other healthy ingredients sucks! We search high and low for good recipes to replace our favourite meals but it's not always easy.
The reality is that nothing is the same. We get tempted with gluten-free processed foods, read a lot of labels, and eventually realize that eating too much of those kinds of packaged goods is a mistake. For your health, consume these in moderation or leave them at the store.
The transition can take time, but at some point, we need to get over it! We need to start making more nutritious foods at home. Most people can do very well with a mostly plant-based lifestyle. Yep, that's right vegetables and fruits, some grains, most seeds, etc. are naturally gluten-free. Pretty great!

Life-saving bread
This dough will hopefully become your gluten-free and vegan bread lifesaver. Prepare yourself a batch on the weekend and have your bread needs filled for the week. One dough recipe yields 1 large pizza crust or 6 rolls and 2 mini loaves. Or make smaller pizza crusts, a few rolls and one small loaf.
The texture of this yeasted loaf is surprisingly delicious. The yeast creates a nice amount of air pockets to lighten the overall density of the bread.
My favourite way to enjoy this bread is by making sandwiches and toast. With a well-seasoned cast iron pan, you can make the best tasting toast. I don't know what it is about gluten-free bread and toasters, but it takes—forever—to toast a slice. A fresh bun with buttery spread or jam is also really great! Oh, and mashed avocado on a slice of this bread with coconut bacon is simply die for!
Troubleshooting
Please join the new Facebook group that was created to troubleshoot any baking challenges you might encounter while making this recipe or any other bread recipes on freshisreal.com.
Or scroll down to the comment box directly below this post with any questions you might have.
---
If you're interested in learning even more about gluten-free and vegan bread baking, consider learning from the GFBA! Check out Heather Crosby's famous baking course. Learn how to make flatbreads, quick breads, and even yeasted loaves with even more plant-powered ingredients. Enrolment is usually twice per year.
Baking with new ingredients, especially gluten-free ones is very different. Heather walks you through each step of the way with videos and printable documents. Included are shopping lists and troubleshooting tips for all her methods and recipes. Check it out >>
---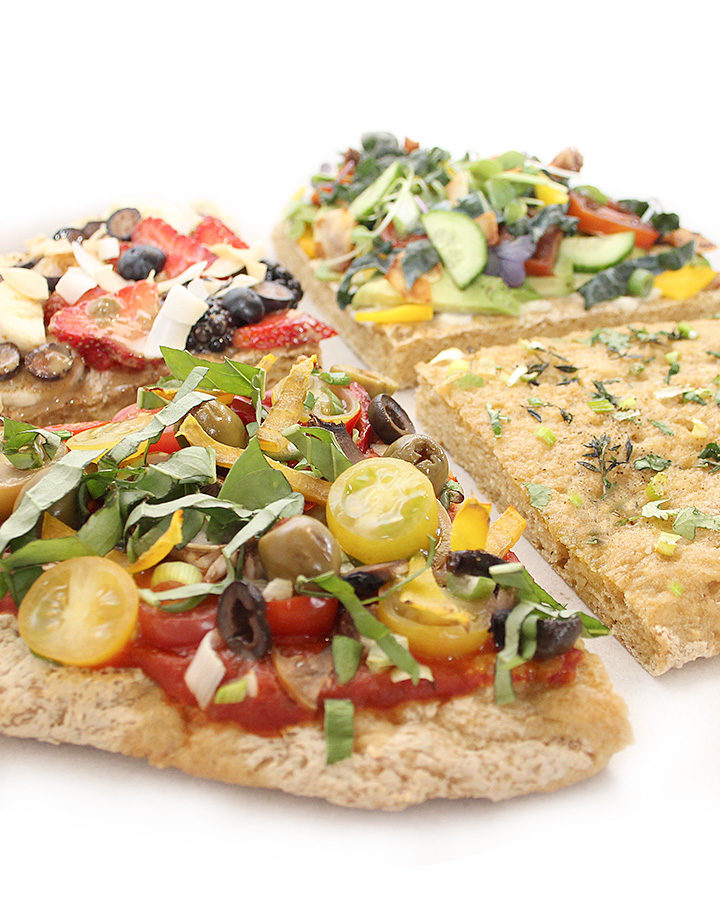 Previous recipe
If you love bread but can't consume recipes with dry active yeast you should give the yeast-free loaf a try.
Next recipe
Part 3 of 3 of my bread recipes will be my Buckwheat Sourdough Loaf also gluten-free and vegan. 
Share your creations
If you made this Basic Yeasted Dough Gluten-Free Vegan recipe, please take a picture! Share it on Facebook or Instagram and tag it @freshisreal_ #freshisreal #gfvbaking
And, don't forget to rate the recipe below.
I can't wait to see your pizza crusts, mini loaves and rolls!

Note that like anything else, moderation is key. Even though the flours used are gluten-free, the grains can still create problems for some. Always consult a medical professional if you are not sure about specific ingredients for your needs.
Print
Basic Yeasted Dough Gluten-Free Vegan
Author:

Prep Time:

20 +2-hour rising time

Cook Time:

20 +15 for pizza crust

Total Time:

2 hours 55 minutes

Yield:

1 10-in pizza crust or 2 mini loaves and 6 rolls
---
Description
A less than 10-ingredient dough mix that you can use for pizza crusts, rolls, or even mini loaves. This basic yeasted bread recipe is gluten-free, vegan, allergen-friendly and is an excellent beginner dough to try. No mixers or kneading required.
Recipe and ingredients adapted and inspired by Heather Crosby Gluten-Free Baking Academy.
---
Ingredients
1 cup millet flour (or combo 1/2 cup millet + 1/2 cup sorghum)
3/4 cup brown rice flour
3/4 cup oat flour (or combo 1/2 cup oat flour + 1/4 cup sunflower seed flour)
1/2 cup arrowroot starch/flour
2 tablespoons psyllium husk, whole
1 tablespoon coconut palm sugar
1-1/2 teaspoons dry active yeast
1 teaspoon sea salt (plus extra to sprinkle)
1-3/4 to 2 cups warm water* (filtered or spring)
Toppings for loaves and rolls (optional):
seeds (flax, hemp, sunflower, pumpkin, sesame, poppy)

oats

grey sea salt or coarse salt

dried herbs
---
Instructions
Pizza crust for now
To a 2-cup measuring cup, add 1 cup of room temperature water with 1 cup of boiled water, let sit until ready to use.

Place sifter inside (or on top) a large glass bowl, sift and combine all dry ingredients; flours, psyllium husk, coconut palm sugar, yeast, salt.

Remove sifter and mix the dry ingredients well with a large wooden spoon.

Add water, starting with 1 cup, mix until incorporated, then add 3/4 cup* until all the liquid is absorbed (the dough will be like a thick pancake batter).

Cover with plastic wrap and let the dough rise in a warm place for 2 hours. (Read step 6 about preheating)

Preheat oven to 450 degrees F for at least 30 minutes before final rising time. You want your oven to be hot.

Line 1 large baking sheet with unbleached parchment paper.

At the 2-hour mark, uncover bowl (your dough should rise up to twice its starting size), and scoop out dough onto parchment lined baking sheet.

Spread dough with the back of your wooden spoon (or spatula), in a circular shape until you reach 10 inches in diameter. Sprinkle your crust with sea salt (optional).

Bake on middle rack in preheated oven for 20 minutes**.

Remove from oven, add your pizza toppings and return to oven for another 12-15 minutes until everything is warm throughout***.

Enjoy right away, or let cool on a cooling rack so it doesn't get soggy.
---
Notes
*Let dough sit for 5 minutes before deciding if you need the remaining 1/4 cup of water (for a total of 2 cups). If you're not sure, it might be best to leave it as is (1-3/4 cup total) for your first bake. Adjust accordingly for your next bake. 
**If you have a pizza baking stone you can slide your pizza crust with parchment paper onto the preheated pizza stone. Bake for 12 minutes, then remove the parchment paper for remaining 8 minutes. See additional preheating note in tips below.
*** Pizza crust for later
Bake on middle rack in preheated 450 degrees F oven for about 20 minutes. Remove from oven and let cool on cooling rack. Once cooled, wrap up and refrigerate until ready to use. Will keep in the refrigerator for five days. Once ready to prepare, top your pizza with your favourite toppings and bake in a preheated 425-degree oven for 12-15 minutes.
Instructions for mini loaves
Follow step 1 to 6 above. Line 2 mini loaf pans (5 x 2-in) with unbleached parchment paper. At the 2-hour mark, uncover bowl (your dough should rise up to twice its starting size), and gently scoop out and divide the mixture between 2 lined mini loaf pans, spread evenly. Sprinkle with toppings of choice (optional). Bake on middle rack in preheated oven for about 35 minutes (until edges are golden brown). Take out loaves from the oven. Remove bread from pans right away if possible. If they seem stuck, don't force it. Let cool for 10 minutes then try again. Remove from pan and let cool completely on a cooling rack. Slice and enjoy!
Instructions for rolls
Follow step 1 to 6 above. Once the dough is ready, scoop out a palm-sized amount and plop it down (leaving space between each) on an unbleached parchment-lined baking sheet (or baking pan of choice: muffin tin, bun pan, bun rings, etc.). Gently shape with hands if necessary. Flatten a little to achieve thinner rolls. Rolls baked in a pan or something with sides will rise higher when baking. Sprinkle with your favourite toppings and bake on the middle rack in a preheated 450 degrees F oven for about 25 minutes. Note: if bottoms are getting dark around the 18-minute mark you can always flip the rolls over for the rest of the baking time. Remove from oven, let cool on a cooling rack, enjoy!
Remember that if you're avoiding gluten, make sure that all your ingredients are certified gluten-free.
For best results (or just for fun) try milling whole grains using a clean spice or coffee grinder. It creates the best textures and enhances all the beautiful flavours of homemade bread.
Tools
You will need a large glass bowl, measuring cups for dry goods and liquids, measuring spoons, a large wooden spoon, a spatula, a flour sifter, unbleached parchment paper, and baking pans (cookie sheet, loaf pan, or other).
Nice tools to have: a spice/coffee grinder, baking stone.
To keep things simple, use what you have on hand. If you don't have bread pans, be creative and shape foil to desired shapes and line with parchment paper. I've successfully tried this method for baguettes.
If you have a baking stone, use it for the pizza or rolls.
Tips
To measure flour, I suggest scooping it with a spoon from the jar or flour bag into the measuring cup. Never pack it in. Or gently dump the flour from your glass jar or flour bag into measuring cup
If using a baking stone, preheating it in the oven at the same time as the oven is warming up is recommended. Use a large plate, cutting board, or the back side of another baking sheet to help you transfer the parchment paper with unbaked pizza crust or rolls. Just slide the paper and dough right onto the hot stone in the oven and follow suggested baking times.
Substitutions
Flour: In place of millet flour, you can use sorghum or light coloured buckwheat flour. Or consider using more oat flour.
Psyllium husk: If you can't eat or don't like using psyllium husk, you could try just leaving it out or adding 1 extra tablespoon of arrowroot starch/flour with 1 tablespoon of ground chia seeds. Follow the rest of the recipe as listed.
Sugar: Try using maple syrup or honey (not vegan) if you don't have coconut palm sugar.
Allergen notice
Make sure that all your ingredients are labelled gluten-free, egg-free, dairy-free, and free of any other top allergens you or your family avoids.