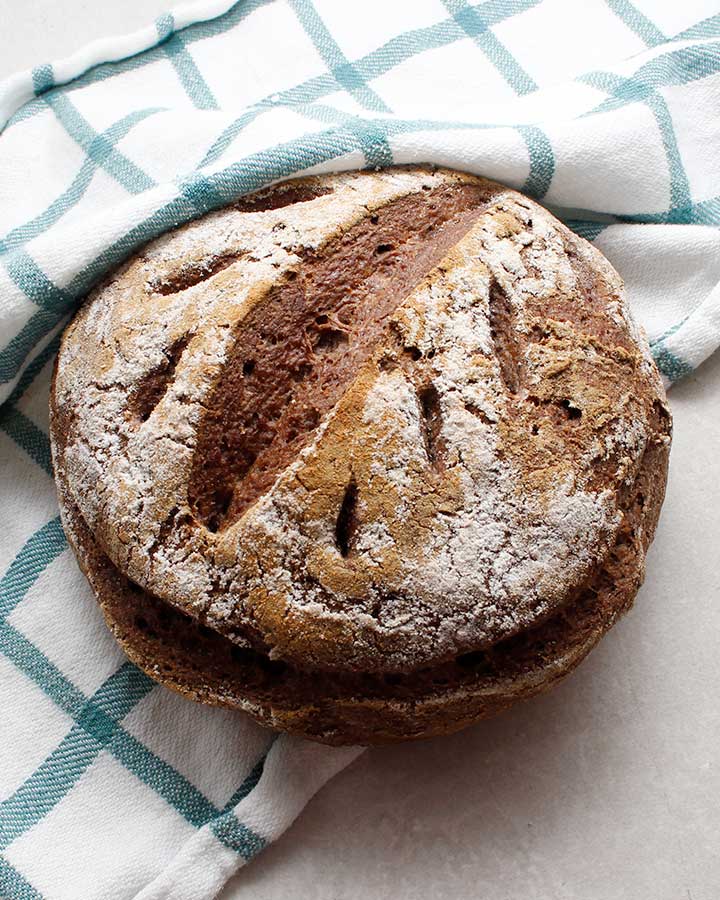 This grain-free bread recipe is the rustic loaf that will change your life! Be excited because it's also gluten-free vegan, and free of nuts, yeast and gums! If you've just switched to a grain-free lifestyle and you have other specific dietary needs—this might be the perfect boule for you to bake!
Thank you very much to everyone that has been so kind in sharing some of their dietary requirements. All your input has helped to create this one-of-a-kind grain-free bread recipe! Click the Read More button below to read the full post and to watch the quick how-to video.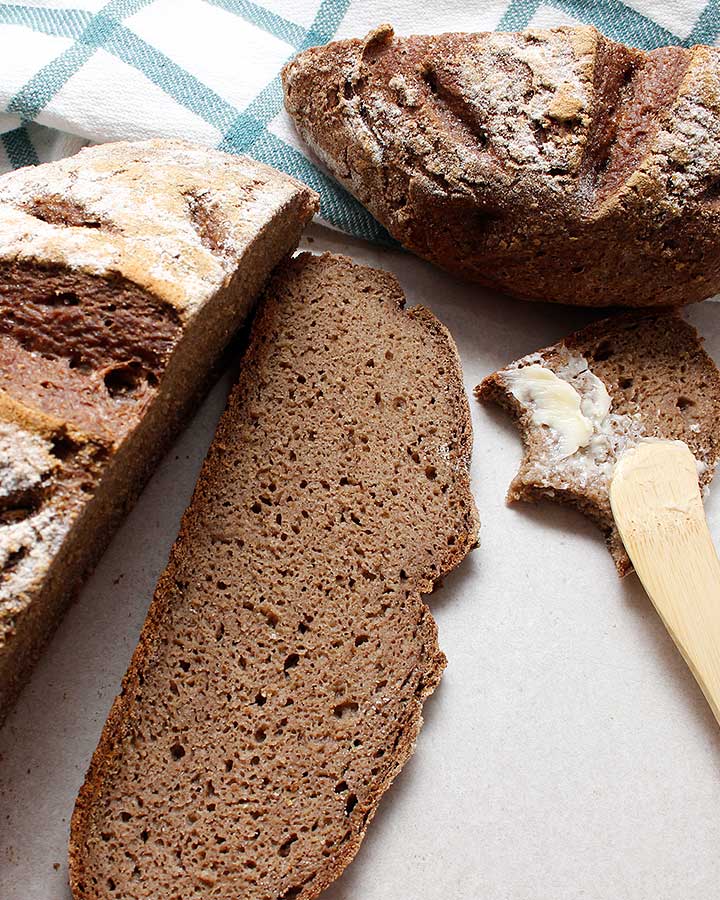 This post might include affiliate links. I love developing recipes, and by showing you which products I use means that if you click, follow and make a purchase from a link, I will earn a small commission at no extra cost to you. Monetizing my work will encourage me to continue, as creating content for a food blog takes a lot of time. 
The Ingredients
After doing my research, and reaching out to my members and followers about the ingredients, I've come to realize that it's common for people on a grain-free diet to also avoid yeast, eggs, dairy, nuts and gums.
The debate for including buckwheat flour in this recipe was ongoing, but after some deliberation, I came to realize that this pseudo-grain can be tolerated in moderation by many on a grain-free diet which is why I decided to include it.
If you avoid buckwheat, I would suggest increasing the other flours in the recipe to replace the buckwheat flour.
New Ingredients
My challenge when creating recipes is always to make sure they are plant-based, allergen-friendly and nutritious. The addition of seeds in a loaf of bread is a bonus, as it helps to create wonderful flavours.
I've recently started experimenting with whole tigernuts and tigernut flour, and I have to admit that I really love these nutrient-packed tubers. That's right, tigernuts are not nuts! Whole tigernuts make the best plant-based milk!
And, as for banana flour, sometimes labelled as green banana flour, I'm equally impressed. This terrific gluten-free, grain-free flour alternative is a great one to add to your pantry. It contains a great source of dietary fibre, can even help with colon health, and it's a resistant starch—the better kind for your health.

Overnight Soaking
If you experience digestive troubles, like many of us do, soaking your dough mixture overnight can be beneficial. The method of soaking nuts, seeds, grains and flour combos will help to break down the ingredients, making it easier on your gut to absorb nutrients.
Refrigerating your dough mixture for twelve hours should be plenty. Please note that if you end up soaking the mix for a little less, or a few extra hours, because of time constraints (or because you're excited to bake your loaf), it should be just fine.
Fermented Sourdough
Initially, I really wanted to share this bread recipe as a grain-free fermented sourdough. After various trials, I decided that for beginner bakers this might not be the easiest of methods to start with.
If you do have a lot of gluten-free sourdough baking experience, then go ahead and create a wild yeast starter with any of the grain-free flours in this recipe. It will work, but it does take up to 7 days to develop a bubbly grain-free sourdough starter. You can use the Gluten-Free Sourdough Starter recipe to guide you along the way.
Keep in mind, if you do try this recipe as a fermented sourdough, you will have to reduce the dry ingredients by about 1/2 cup (e.i., reduce the banana flour to 1/2 cup instead of 1 cup) and reduce the amount of water to about 1-1/4 to 1-1/2 cups total (instead of 1-3/4 cups total). And of course, you would also leave out the baking powder.
One more thing, baking this recipe as a sourdough will require a slightly different prepping method. Although the slow overnight soaking/fermenting of the ingredients will work equally well for this version, an additional proofing/rising period of approximately 2-4 hours would also be required. Please leave a comment below if you need more guidance with the grain-free sourdough option.
Quick Sourdough
If you do like the idea of creating a sourdough, but you don't want to wait up to 7 days, you can add a little active yeast to speeds things up. This won't create a true grain-free sourdough, but it will yield a very satisfying and tasty loaf.
I usually combine 1/4 of a teaspoon of active yeast, 1/2 cup of water, with 1/2 cup of flour. Stir, cover and let sit on the counter at room temperature. You'll feed the quick starter 1 to 2 more times until you get at least 1 cup of bubbly starter to use in a bread recipe.
Adjusting the measurements of the dry ingredients would be necessary if trying this recipe as a quick sourdough. Again, I can elaborate with more instructions if this method interests you. Just let me know in the comments, and I can create a new post or include more instructions here.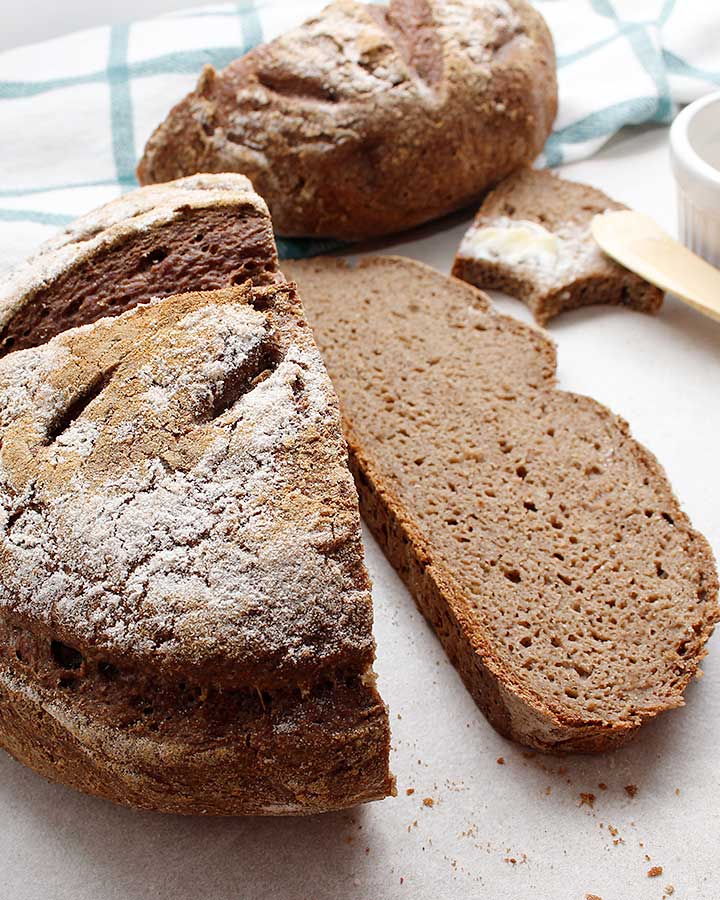 The magical ingredient
You might be wondering if you can bake this loaf without baking powder. Well, the baking powder in this recipe is sort of the magical ingredient. The baking powder used in this recipe includes; tapioca starch, cream of tartar and baking soda. This is the brand of baking powder I use—sometimes I make my own.
In a pinch, you could probably omit the tapioca starch as the recipe includes arrowroot starch, but you would have to replace the cream of tartar with either apple cider vinegar or fresh lemon juice. The addition of a little baking soda might be necessary.
Baking this grain-free loaf without baking powder wasn't tested. Once it is, I will add the details in this post to let you know of the outcome. I'm curious too so it will be tested again at some point, as I bake this loaf very often—it's that good! Just wait until you smell it baking!
Ready to bake?
You're here now, so try it! You can ask questions along the way in the comments below or join Fresh is Real's GFV Baking Facebook group.
Gluten-Free Baking Academy
If you're interested in learning even more about gluten-free and vegan bread baking, consider learning from the GFBA! Check out Heather Crosby's famous baking course. Learn how to make flatbreads, quick breads, and even yeasted loaves with even more plant-powered ingredients. Enrolment is usually twice per year.
Baking with new ingredients, especially gluten-free ones is very different. Heather walks you through each step of the way with videos and printable documents. Included are shopping lists and troubleshooting tips for all her methods and recipes. [Affiliate link] Take a peek  
Classic Cookies 101
New gluten-free cookie course self-paced course from GFBA.
[Affilate link] Reserve your spot
Previous recipe
My last recipe on Fresh is Real was a beautiful, comforting Butternut Squash Leek Soup! Enjoying a slice of grain-free toast to dip in this soup is very delicious!
The Gluten-Free Sourdough Starter recipe post was recently updated with new videos and a printable pdf which includes a step-by-step guide on how to make your own starter.
Share your creations
If you attempted this grain-free bread recipe, I'm very proud of you! You did it! You baked yourself a rustic and delicious ball of goodness!
Share your success by taking a picture! Post it on Facebook or Instagram and tag it #freshisreal #gfvbaking.
Lastly, don't forget to rate your experience below. Leaving a comment is very helpful to others attempting their first grain-free bread recipe!

Print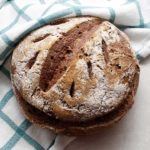 How to Make Grain-Free Bread
Author:

Prep Time:

30 minutes + 12 hours soaking

Cook Time:

60 minutes

Total Time:

90 minutes (+12 hours hand-off time)

Yield: Serves

4

1

x
Category:

Grain-Free, Gluten-Free, Vegan, Nut-Free, Yeast-Free, Gum-Free, Allergen-Friendly, Plant-Based

Method:

Oven-Baked

Cuisine:

Bread, Loaf
---
Description
This rustic gut-friendly grain-free bread recipe will change your life! Mix, refrigerate, shape and bake! Gluten-Free Vegan. Free of nuts, yeast and gums!
Fresh is Real is sharing the simplest baking method possible to encourage beginner bread bakers to try this grain-free bread recipe!
Tools needed:
– oven
– oven-safe Dutch oven/casserole
– baking stone (optional)
– parchment paper
Note: If you can consume yeasted loaves prepared with wild yeast, you can use a grain-free sourdough starter as a leavening option. Read complete recipe post for details.
---
Scale
Ingredients
1 cup banana flour (green banana flour)
3/4 cup buckwheat flour
3/4 cup sunflower seed flour (or pumpkin seed flour)*
1/2 cup tigernut flour
1/2 cup arrowroot starch/flour
2 tablespoons psyllium husk, whole
1 tablespoon coconut palm sugar
1/2 tablespoon fine sea salt
1–3/4 water, room temperature (filtered or spring)
2 tablespoons baking powder (GF, AF, CF)**
---
Instructions
Tip: Soaking the dough mixture overnight (12 hours) is beneficial to break down the ingredients. Start this recipe in the evening.
In a large bowl, sift and combine all dry ingredients—except for baking powder.
Add 1 cup of water to start and mix until absorbed, add the remaining 3/4 cups of water and mix until well combined.
Cover bowl and place in the refrigerator overnight for at least 12 hours.
In the morning, remove bowl from the refrigerator.
If ready to bake, preheat the oven and Dutch oven (and baking stone)*** to 450° F (min. 45 minutes) on the middle rack.
Uncover dough, loosen edges with a spatula, add baking powder, and mix in (or knead in) with hand or spoon directly into the mixing bowl.
Sprinkle working surface with a little flour (any flour used in the recipe).
Remove dough from bowl, sprinkle with flour and gently flatten with fingers to an approx. 8 x 10-in rectangle.
Fold the dough in half, if the dough is very sticky, sprinkle with a little more flour, and fold in half again.
Repeat this step (flatten to a rectangle, fold in half and half again) one to two more times until dough comes together nicely.
Tuck seems underneath to create a nice dough ball, dust with flour and place onto parchment paper.
Cover with a tea towel for 15-30 minutes or until oven is nice and hot (preheated for 45 minutes up to 1 hour).
With oven mitts, remove preheated Dutch oven from the oven—be careful it will be hot—and set aside.
Uncover your loaf, dust with more flour if necessary, score the top of your dough with lines or a simple pattern.
Spray with a mist of water/olive oil (optional), transfer dough and parchment paper to Dutch oven.
Cover Dutch oven and place in the oven onto hot baking stone—if you have one—if not directly on middle oven rack.
Bake for 25 minutes covered, 25 minutes uncovered and 10 minutes directly onto baking stone or oven rack without parchment paper.
Remove the bread from the oven and place on cooling rack.
Let the bread cool completely before slicing! Enjoy!
---
Notes
The loaf keeps on the kitchen counter for one day covered with a tea towel and in the refrigerator in a sealed container for up to 5 days.
This bread is fantastic fresh with your favourite spread or toasted once refrigerated!
* You can use a clean coffee grinder or dry container Vitamix to mill raw seeds into a fine flour.
** This recipe includes gluten-free, aluminum-free, corn-free baking powder. Baking powder ingredients; tapioca starch, cream of tartar, baking soda.
*** The baking stone is optional but great to use if you have one. It will help your loaf rise.
**** Tip: If the bread dents when touched, keep it in the oven for a few minutes longer. The loaf is ready once it sounds crispy and hard when tapped with a finger.
Keywords: Grain-Free, Gluten-Free, Vegan, Nut-Free, Yeast-Free, Gum-Free, Allergen-Friendly, Plant-Based, Bread, Loaf, How to Make Grain-Free Bread