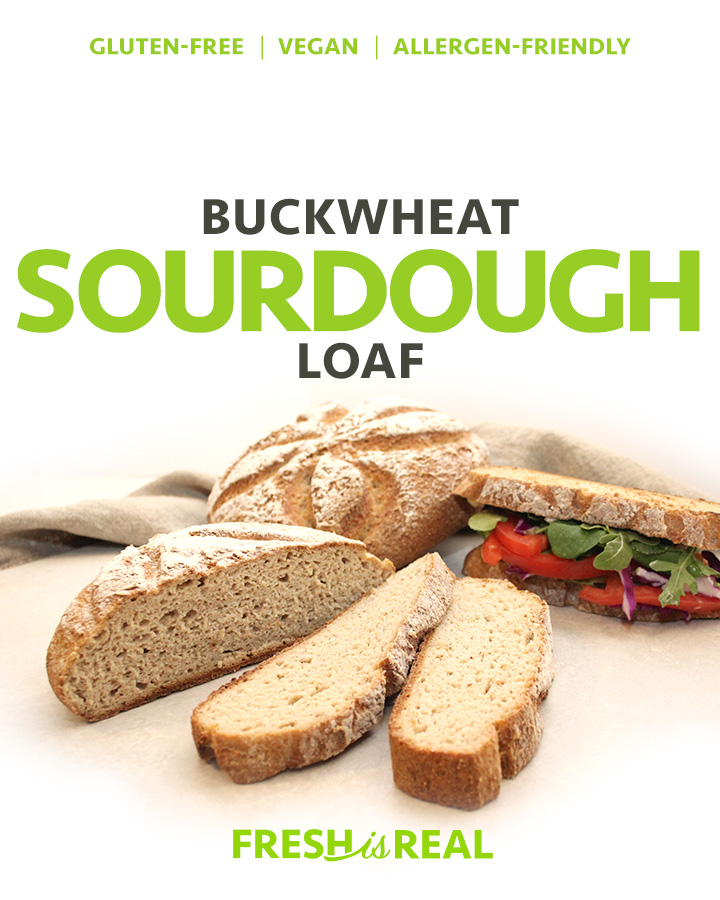 Part 3 of 3. My third favourite bread recipe is my Buckwheat Sourdough Loaf Gluten-Free Vegan. This bread is a lot of fun to make if, like me, you love baking and experimenting in the kitchen.
If you haven't seen them yet, Part 1 is a Yeast-Free Bread recipe and Part 2 is a Basic Yeasted Dough.
This loaf will be easy for you to make if you have an active bubbly gluten-free starter. A gluten-free starter—what? A starter is the wild cultured yeast that can be prepared in your own kitchen.
Don't worry, I will explain everything you need to know to give this free-form loaf a try.
Keep reading for the instructions, tools, tips and quick how-to video.

A loaf with benefits
Do you love squishy white bread—like my dad? I'm sorry, but this bread recipe probably won't be for you. Instead, please share this recipe with someone you know that enjoys heartier nutritious loaves. If you do share it, thank you!
If you've recently had to give up gluten, or other top allergens to improve your health, then this recipe might be just right for you!
Gluten, eggs, or dairy are not part of the ingredients in this recipe. And, this loaf is also free of corn, legumes, gums and oil.
It's a simple and nutritious sourdough loaf prepared with ingredients that you can find at your grocery store. Sourdough is often known as the easier-to-digest bread for people with various digestive issues.
Tools needed
No mixers or kneading are required for this sourdough recipe. You will need a large glass bowl, a few measuring spoons and cups, a sifter, spoons, a Dutch oven (or baking stone), unbleached parchment paper, oven mitts, and well, a regular oven.
A spice/coffee grinder, a grain mill, or dry container blender to transform your whole grains and seeds into a fine flour will be helpful. I don't have a food processor, so I'm not sure if you can mill grains or seeds without turning them to mush.
Gluten-free grains and seeds
All the grains and seeds listed in the recipe are gluten-free. Always make sure that pre-milled grains (flours) or seeds are certified gluten-free if you are avoiding gluten as a top allergen (or any other).
If you prefer to buy whole grains like whole buckwheat and oats, you can transform them into a flour using a spice/coffee grinder.
I use this method for my sunflower seeds as well because as of now, I still haven't been able to find a supplier for sunflower flour.
In my opinion, milling your own at home is better because it makes your loaves taste so much better and fresher.
To store gluten-free flour, grains, or seeds, keep them in your pantry until ready to open. If you use them very regularly transferring them in glass jars is excellent. If you don't bake often, keep your jars in the fridge. Or you can freeze opened leftover packages.

Why this loaf
When I test bread recipes in my kitchen, I always try to include various ingredients that will enhance the flavour, the nutrition value, and the texture of the loaves.
Baking with gluten-free flour and seeds is different. There is a learning curve to master the right texture, and hopefully, I've simplified the process enough to make it less intimidating for you to try.
It's important to note that this Buckwheat Sourdough Loaf Gluten-Free Vegan, once sliced, will feel slightly sticky to touch. In all the sourdough loaves I've baked reducing the amount of water added helps.
Then again you don't want to reduce it by too much and have the bread be too dry or even denser.
Adding more water helps to increase the rise, but it can also make your free-form loaves flop and be flat. I've tested many scenarios, and this recipe is what worked best for me.
As you get more confident with gluten-free and vegan baking, you too will want to tweak the ingredients to customize the recipe to make it your own. I've used this recipe not only as a free-form loaf but also for rolls, mini loaves, and even pizza crusts.
Make a loaf on the weekend and have all your sandwich and toast needs covered for the week. Store it on the counter for one day, then refrigerate. Will keep well for up to 7 days. You can also slice the loaf and freeze it until ready to eat.
Gluten-Free Starter
What is a gluten-free sourdough starter anyway? The leavening agent for this bread recipe is wild culture yeast (gluten-free starter) that anyone can prepare in their kitchen.
Most sourdough loaves sold in stores are fermented yes but are often wheat based. If you're not sure, always ask. Some bakeries are getting creative and trying new things, so it's possible to start finding gluten-free sourdough nowadays.
My tested and true gluten-free starters are made with organic, gluten-free brown rice flour and clean filtered or spring water. Do not use water directly from the tap to create a starter. Chlorinated water will not work with this process.
The next post will include instructions, tips and tricks for you to create your first bubbly starter. Your kids might like this science experiment.

Bread obsessed
I've been fascinated with baking bread, ever since I was a young child. As a kid, I would attempt making these intricate recipes that would end up very dense and well not the best to share with my family.
Who knew that one day I would bake again but this time without wheat or gluten and instead other healthy grains that are better suited for me and my family's dietary restrictions.
---
 Gluten-Free Baking Academy
If you're interested in learning even more about gluten-free and vegan bread baking, consider learning from the GFBA! Check out Heather Crosby's famous baking course. Learn how to make flatbreads, quick breads, and even yeasted loaves with even more plant-powered ingredients. Enrolment is usually twice per year. 
Baking with new ingredients, especially gluten-free ones is very different. Heather walks you through each step of the way with videos and printable documents. Included are shopping lists and troubleshooting tips for all her methods and recipes. [Affiliate link] Check it out >>
---
Previous recipe
You love bread but are not ready to attempt a sourdough loaf just yet? Have a look at the Basic Yeasted Dough recipe. It's a great beginner recipe to try. Especially, if you have a variety of bread needs to fill. If you can't eat yeasted bread, you could try the Yeast-Free Bread recipe.
With one batch of dough for either recipe, you can make a large pizza crust or small rolls and mini loaves. Or divide one recipe into a couple of small personal sized pizza crusts, a few rolls and one mini loaf.
Next recipe
How to make a gluten-free sourdough starter.
Share your creations
If you made this Buckwheat Sourdough Loaf Gluten-Free Vegan recipe, please take a picture! Share it on Facebook or Instagram and tag it #freshisreal #gfvbaking.
And, don't forget to rate the recipe below.
I can't wait to see your artisan-style sourdough boules!

Note that like anything else, moderation is key. Even though the flours used are gluten-free, the grains can still create problems for some. Always consult a medical professional if you are not sure about specific ingredients for your needs.
Print
Buckwheat Sourdough Loaf Gluten-Free Vegan
Author:

Prep Time:

20 minutes +2-hour rising time

Cook Time:

55 minutes

Total Time:

3 hours 15 minutes

Yield:

1

loaf

1

x
---
Description
A less than 10-ingredient artisan-style naturally leavened sourdough recipe that transforms into a perfect little boule. This Buckwheat Sourdough recipe is gluten-free, vegan, allergen-friendly and requires some patience to prepare. No mixers or kneading required. Free of oil, corn, gums, and legumes.
You will need an active gluten-free sourdough starter (wild yeast) before starting.
Recipe and ingredients adapted and inspired by the lovely Heather Crosby Gluten-Free Baking Academy.
---
Scale
Ingredients
Dry Ingredients:
3/4 cup buckwheat flour
3/4 cup sunflower seed flour (prepared with raw seeds)
1/2 cup arrowroot starch/flour
1/2 cup brown rice flour
1/2 cup oat flour
2 tablespoons psyllium husk, whole
1 tablespoon coconut palm sugar
1–1/2 teaspoon sea salt
Wet ingredients:
1 cup active GF brown rice starter
1–1/2 cups (up to 1-3/4 cups) warm water*
Tools required:
An oven-safe Dutch oven or baking stone.
The medium-sized Dutch oven will need to have a stainless or cast iron handle (heatproof to 450 degrees F) and will be no smaller than 7 inches in diameter (base) and 4 inches in high.
The baking stone should be at least 12 inches in diameter.
---
Instructions
Cut a piece of unbleached parchment paper that will fit inside or on your baking vessel of choice, set aside.
To a 2-cup measuring cup, add 1 cup of room temperature water with 1/2 cup (up to 3/4 cup) of hot boiled water, let sit until ready to use.
Prepare and measure all your dry ingredients for step 4.
Place sifter inside (or on top) a large glass bowl, sift and combine all dry ingredients; flours, psyllium husk, coconut palm sugar, salt.
Remove sifter and mix the dry ingredients well with a large wooden spoon.
Add the 1 cup of starter and 1 cup of water and mix well until water absorbs.
Add the remaining 1/2 cup of water and mix until all the water is incorporated.
The texture of the dough should be like a thick pancake mix. Let sit for 2-5 minutes.
If after a few minutes your dough looks too dry, add the extra 1/4 cup of water** (for a total of 1-3/4 cups), and mix.
Transfer dough into a large soup bowl that your dough will fit into.
Loosely cover with plastic wrap (or other wraps), let rise in a warm place for 2 hours.
Read step 12 and 13 about preheating.
Preheat the oven to 450 degrees F, at least 30-45 minutes before you are ready to bake the loaf.
You will also need to preheat your Dutch oven (or baking stone) while the oven is warming up, everything needs to be hot!
At the 2-hour mark, uncover bowl (your dough should have increased a little in size and it will rise more while baking).
Sprinkle top of dough in the bowl with a little brown rice flour.
With a spatula, carefully loosen the edges of the dough, pulling it away from the sides of the bowl.
Have your parchment paper ready and gently transfer dough directly onto paper.
Sprinkle more brown rice flour over the top and spread around with hands.
Tuck in the dough at the base if necessary, and shape into a boule (round free-form loaf), move fairly quickly for this step.
With a sharp blade or knife, cut 1/2-in deep cuts in artistic patterns (e.g., leaf, lines, spiral, etc.)
Remove Dutch oven (or baking stone from the oven), careful it will be hot, transfer dough with parchment paper into the baking vessel, cover (if Dutch oven) and return to oven.
Bake for 20 minutes at 450 degrees F covered, then remove the cover for 30 minutes (ignore the covered part for baking stone method).
For the last 5 minutes of baking (total time 55 minutes), you can remove your loaf from the Dutch oven and place directly on the oven rack without parchment paper.
Your loaf should be ready when it sounds hollow and crusty when tapped with a finger.
Let cool on cooling rack for a few hours or overnight (you can cover it with a tea towel). Please resist the urge to cut it right away; it needs time to finish baking and to cool down.
Once cooled, slice, eat fresh, or toast and enjoy with your favourite spread.
Keeps on the counter for one day, then refrigerate for up to 7 days.
What you can expect
This loaf will not feel dry inside. It might even feel a bit sticky to touch.
After the bread has been refrigerated it will feel hard and possibly stale to some. Once toasted it will warm up beautifully and taste amazing!
If you want to consume it fresh, have a slice (or two) before refrigerating it.
---
Notes
*Clean filtered or spring water. Do not use chlorinated tap water.
** If unsure about adding the extra water, it might be best to try it with the 1-1/2 cups to start. A free-form loaf will fall flatter if the dough is too wet.
Remember that if you're avoiding gluten, make sure that all your ingredients are certified gluten-free.
For best results (or just for fun) try milling whole grains using a clean spice or coffee grinder. It creates the best textures and enhances all the beautiful flavours of homemade bread.
Tools
You will need a large glass bowl, measuring cups for dry goods and liquids, measuring spoons, a large wooden spoon, a spatula, a flour sifter, unbleached parchment paper, and a dutch oven or baking stone.
A spice/coffee grinder or grain mill will help you grind the sunflower seeds, and other whole grains, into a fine flour.
Tips
To measure flour, I suggest scooping it with a spoon from the jar or flour bag into the measuring cup. Never pack it in. Or gently dump the flour from your glass jar or flour bag into measuring cup
When using a Dutch oven or baking stone, preheating them in the oven at the same time as the oven is warming up is highly recommended.
Substitutions
Flour: In place of buckwheat flour, you can use sorghum or millet flour (or half of each). Or you could consider using more oat flour to replace one of the flours. Gluten-free baking works best with a combination of grains and seeds.
Psyllium husk: If you can't eat or don't like using psyllium husk, you could try just leaving it out or adding 1 extra tablespoon of arrowroot starch/flour with 1 tablespoon of ground chia seeds. Follow the rest of the recipe as listed. Note: I haven't tested this substitution with this specific loaf recipe, once I do I will confirm the results.
Sugar: Try using maple syrup or honey (not vegan) if you don't have coconut palm sugar.
Allergen notice
Make sure that all your ingredients are labelled gluten-free, egg-free, dairy-free, and free of any other top allergens you or your family avoids.